Bua Sacred Protection Face Cream
Peptides active cream for firmer and brighter skin.
$110.00
Provide the foundation that allows your skin cells to thrive.
The light, diverse and multi-skilled Bua cream defends by day, and preserves and brightens by night. The puffreducing formula includes: black tea and green tea water and is drenched in antioxidants that boost your skin's protection against rhatany and CO2 sun damage. Thanaka extract and active caffeine liposome helps heal wounds.
Phytochemical isolates from lakoocha bark and licorice plants work to brighten hyper pigmentation by inhibiting tyrosinase activity and melanin pigment reduction, brightening post-inflammatory dark spots and evening skin tone.
Extracted callus stem cells of the lotus plant supports sebum production balance beneficial for oily skin. Peptides fuse synergistically with Pueraria mirifica, an indigenous plant extract from Southeast Asia, which interacts with the protein structure in-between skin layers: firming skin texture, softening fine lines and increasing elasticity.
SCENT EXPERIENCE : Like a blooming lotus, the scent starts off with a soft earthy aroma that swiftly matures into a fresh blend of florals such as Geranium Rose and Neroli with the savory sweetness of vanilla and Ylang Ylang.
Ways to play with Bua Sacred Protection Face Cream
Bua is a dense active cream, and a very light moisturizer. Apply just 1-2 pumps on face, neck and décolleté area.
For Oily and Acne Prone Skin
This is an active cream, apply it before a moisturizer, then follow with a mist and a light serum. Massage well.
For Drier, Dehydrated and Sensitive Skin
Apply before a moisturizer followed by a mist, serum and facial balm, massage well.
Lakoocha heartwood
Inhibits tyrosinase activity, brightens skin and lightens dark spots. The heartwood extract of Lakoocha contains concentrated oxyresveratrol, an effective and economical skin lightening agent.
Pueraria Mirifica
Commonly known as Kwao Krua in Southeast Asia. Pueraria Mirifica is indigenous to the Northern part of Thailand.  Due to significantly high amounts of phytoestrogen, plant molecules that possess estrogen-like activity, Kwao Krua has been used both internally and topically for estrogen stimulation. Additionally, containing isoflavonoid called puerarin which supports the thickening of the skin and increases collagen type 1 for fuller and plumper skin appearance.
Estrogen is an essential component for skin function. It helps to improve the skin thickness, plumpness, elasticity and hydration. As we age, our body's ability to produce estrogen becomes deficient and the decrease in the estrogen negatively effects skin plumpness, elasticity and hydration. Pueraria Mirifica contains high phytoestrogen, plant derived molecules which possesses estrogen like activity. These molecules are proven to combat skin aging and other effects of hypoestrogenism such as thinning of the skin, loss of elasticity and hydration. Pueraria Mirifica contains a high amount of Puerarin, which works by increasing the estrogen activity in the cells and binding the receptors to stimulate more estrogen production naturally. Pueraria Mirifica is one the main ingredients in the Skin Revolution Mask.
Pink Lotus
Promotes youthful skin by tightening and smoothing.
Black Tea Water*,Green Tea Water*, Niacinamide or Vitamin B3, Caprylic/Capric Triglyceride, Raspberry Seed CO2 Extract*, Caffeine Liposome, Lactobacillus Ferment, Pueraria Mirifica Extract, Punica Pomegranate Seed CO2 Extract*, Lotus Callus Stem Cells Extract, Black Raspberry Seed Oil*,  Dipalmitoyl Hydroxyproline, Thanaka Bark Extract**, N-Acetyl Glucosamine, Panthenol Liposome, Guggul Extract*,  Sunflower Seed Oil, White Lupin Seed Extract,  Lotus Flower Extract,  Coleus Forkohlii Extract*, Cetyl Palmitate, Sodium Palmitoyl Proline, Cetearyl Olivate, vitamin E, Sorbitan Palmitate, Sorbitan Olivate, Palmitoyl Dipeptide-5 Diaminobutyloyl Hydroxythreonine (Tetrapeptide), Palmitoyl Dipeptide-5 Diaminohydroxybutyrate (Tripeptide), Pomegranate Peel Extract*, Rhatany CO2 Extract*, Propanediol, Isoamyl Laurate, Isoamyl Cocoate, Sorbitan Olivate, Lactobacillus, Xylitylglucoside (and) Anhydroxylitol (and) Xylitol, Dimethyl Isosorbide, Beetroot Extract, Ceramide NP,  Lakoocha Wood Extract**, Milk Thirstle Fruit Extract, Frankincense Resin Extract*, Turmeric root Extract, Pepper Extract, Cetyl alcohol, Saccharide Isomerate, Bisabolol, Carnosine, Inulin, Xanthan Gum, Coconut Fruit Extract, Licorice Root Extract, Ellagic Acid, Neroli Flower Oil*, Pink Lotus Absolute*, Rose Geranium Oil*. Ylang Ylang Flower Oil*, Frankincense Resin Oil*
Description
While skin is wet from Yen toner or previous step, apply just 1-2 pumps on face, neck.
Cup the hands over your nose, take a moment to breathe and let the aroma soothe your senses.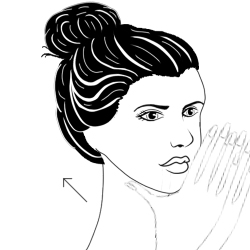 Gently massage into skin.
Follow with the Balm and perform the lift massage to stimulate blood flow, increase absorption and sculpt the facial muscle to firm and plump your skin.
Now in my 40's, I've been noticing all the damage my youthful neglect has unleashed on my skin. Although, sadly, we can not avoid the process of aging, we can avoid the premature aging of our skin by identifying nature's specific ingredients that our skin needs to repair, protect and regenerate.

As skin ages, it becomes less full from stagnation and reduced collagen which leads to dullness, congestion, slow healing, uneven skin tone and post inflammation-hyperpigmentation causing skin (particularly darker skin) to take way too long to heal. With this in mind, I set out to create a light cream that could both protect and restore, with the following four specific goals in mind:

1. Protect:: Consistent long term application of antioxidants is vital to elasticity and a noticeably youthful appearance.

2. Support and Boost Collagen: The production of collagen becomes stagnant with age. But using ingredients like Pueraria Mirifica, Lupine and peptides will plump skin and send signals to collagen synthesis to increase production.

3. Firm the Skin: Certain peptides and stem-cells can help reduce fine lines by increasing elasticity, and peptide-like prolines can prohibit skin sagging. Using precisely calculated natural plant peptides and lab creations in combination with whole-plant extracts will protect and firm the skin.

4. Brighten Uneven Skin tone: Trauma from inflammation will bruise cells, but an extract of licorice root, lakoocha bark and milk thistle will work to inhibit the tyrosinase (darkening of melanin) preventing hyper-pigmentation.

My intentions for Bua Sacred Protection Face Cream were to give your skin the best protection available while supporting the skin's repairing process by scientifically pulling a perfect combination of natural ingredients to raise efficacy and cultivate synergies. It took way too long perfecting the Bua formula, testing so many actives each with its own place and purpose, but it was worth every minute to gift you this amazing result-driven cream with a texture you'll love, and I pledge to you that with regular long term use you will see unparalleled results.
Only logged in customers who have purchased this product may leave a review.