SEAS Elements Beauty Balm
Antioxidant boost & Skin barrier protecting balm
$95.00
Indulge in your inner fountain of youth. A moisture sealant for parched skin.
SEAS Elements is a concentrated moisturizer that protects the skin barrier, prevents moisture loss, reactivates skin elasticity, boosts collagen synthesis and regenerates skin cells to create a natural glow.
A rich source of tetrahexyldecyl ascorbate, the most skin-penetrable form of Vitamin C to restore brightness and balance skin tone, while Bakuchiol, Yananag, Gotu kola work synergistically with vitamin C to regenerate cells and defense against UV damage, free radicals and collagen breakdowns.
SEAS elements Beauty balm is a firmer textured balm that luxuriously softens by the heat of your fingertips transforming into a fast absorbent fluid that your skin will relish for its nutrients and protection. SEAS is a skin therapy treatment for all skin types; especially eczema, rosacea, dry, mature, inflamed and sensitive skin.
SCENT EXPERIENCE : A green, forest like color balm intertwined with the sweet nostalgic scent of jasmine flower and the herbaceous scent of blue tansy.
Blue Tansy
Ultimate redness and irritation soother.
Yanang
Loaded with phenolic compounds to provide skin with an abundance of antioxidants, preserving youth.
Lakoocha heartwood
Inhibits tyrosinase activity, brightens skin and lightens dark spots. The heartwood extract of Lakoocha contains concentrated oxyresveratrol, an effective and economical skin lightening agent.
Vitamin C Ester (Oil Soluble)
The most stable, penetrable form of vitamin C to brighten and repair cells whilst acting as your first line of defense against UV damage and free radicals.
Kokum Butter** (protects skin barrier, reduces degeneration of cells, restores elasticity), Mowrah Butter** (moisturizes, prevents drying of the skin and hinders wrinkle development), Hemp Seed Oil* (regulates oil production, a great source of nutrient for congested skin, supports healing of atopic dermatitis), Safflower Oil* (reduces redness, softens and hydrates flaky skin), Yanang ** (dense antioxidants and anti-inflammatory), Gotu Kola* (strengthens skin barrier function), Laurel Clock Vine** (expedites wound healing, anti-inflammatory), Plai** (cools the skin, reduces swelling and inflammation), Lakoocha**(inhibits hyperpigmentation, lightens hyperpigmentation) Roman Chamomile* (calms redness and irritation), Vitamin C Ester Oil Soluble (brightens, repairs and defends against free radicals), Rosehip Seed CO2 Extract* (promotes wound healing and improves scarring), Pumpkin Seed Oil* (relieves inflammation and improves moisture content, great moisturizer for acne prone skin), Pracaxi Oil** (effective scar and wound treatment), Tamanu Oil*(prevents UV damage and promotes collagen production), Mango Butter* (protects against moisture loss, reduces sun-damage), Bakuchiol (regenerate cells, heals acne and reverses premature aging), Blue Tansy Oil* (relieves redness, inflammation and irritation in sensitive skin), Jasminum Grandiflorum Absolute*(anti-fungal, speeds up wound healing), Rose Otto Oil* (antiseptic, astringent and anti-inflammatory), Immortelle Oil* (decreases the appearance of fine lines and wrinkles), Ravensara Oil* (antiviral, soothes allergy and sensitive skin), Bulgarian Rose Absolute* (evens skin tone and reduces sun damage), Neroli Oil* (soothes dryness and redness, balances sebum production), Myrrh Oil* (hinders fine lines, expedite healing in wounds and skin trauma), Frankincense Oil** (anti-microbial and anti-inflammatory), Lavender Oil* (reduces pain and inflammation). * Organic ** Sustainably Wildcrafted
Description
While skin is wet from Yen toner or previous step, gather a rice grain size amount of SEAS into fingertips. Activate and melt the balm with the palms of your hands.
Cup the hands over your nose, take a moment to breathe and let the aroma soothe your senses.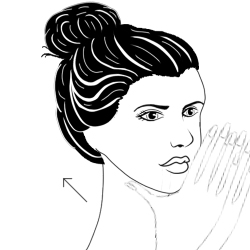 Gently massage into skin, lifting and sculpting your natural bone structure using your fingertips and palms of your hand or a Gua Sha tool.
Follow the lift massage to stimulate blood flow, increase absorption and sculpt the facial muscle to firm and plump your skin.
Seas Elements is a salvation for those with a dry or impaired skin barrier. I originally created this to help one of my closest life-long friends who has dealt with dry skin, on and off eczema and skin barrier dysfunction issues. Throughout the formulating process, each ingredient was researched for its fatty acid profile and healing ability. I reached for a balanced concentration to provide great protection for dry skin, retaining hydration to expedite cell repair while maintaining healing for those with acne prone skin without causing congestion or overwhelming oilier skin. This is the unyielding principal of this formula.
Seas Elements has a firmer texture and "drier" butter with just enough occlusive (fatty acid high in omega-9) to hug the surface of your skin to prevent moisture loss and plenty of non-occlusive (lighter omega 3 and omega 6 fatty acids) to penetrate deeper, carrying potent actives such as bakuchiol, vitamin C ester and botanical infusion deep to cells to repair and moisturize from the inside out.
Seas Elements Beauty Balm is a ritualistic product for me. I apply a generous amount of Seas Elements at night time. I take a moment to breathe deeply, feeling my fingers gently massaging my skin, judgement is absent, and I allow the nostalgic scent of this gorgeous balm to soothe me as I perform a l lift massage technique from our page or Gua Sha.
Only logged in customers who have purchased this product may leave a review.