Morning Delight Cleanser
Swiftly melt away dirt and makeup to an awakened skin
$70.00
Re-discover and fall in love with the softness of your bare skin every day.
Cleanser by day, makeup remover by night. Morning Delight is a superfood cleanser for all skin types, especially acne-prone and oily skin. This dual action cleanser has a velvety oil texture on your skin and will effortlessly melt makeup and sunscreen; pick up excessive sebum and debris, before being washed away in a thin milky solution once touched by water leaving your skin thoroughly cleansed and silky soft.
Indigenous plant medicine such as sompoi, mangosteen, rang jued, garlic and onion support skin with antioxidants, anti-inflammatory, antibacterial and scar brightening properties. Exfoliating enzymes from papaya and aspen bark work to clear congestion and slough off dead skin cells, revealing a glowing new layer. High linoleic fatty acid in sunflower oil and castor seed oil deeply cleanse and protect your natural skin barrier.
Scent Experience: Morning Delight Cleanser is grounding — an earthy scent with a subtle touch of sweet floral and tangy citrus.
Mangosteen
Anti-inflammatory agent with exceptional healing powers reducing inflammation and healing lesions. A potent antibacterial great for fighting acne while simultaneously improving skin's elasticity.
Onion
In the past the onion extract of different mediums (water and alcohol) was used to make a scar repairing gel for c-section scars in Southeast Asia. Research showed that the earlier you applied the extract to damaged tissues the better the result. Onion is rich in quercetin and bioflavonoid that supports skin tissue in healing and protecting from scar formation. In Morning Delight Cleanser, onion extract is included to help brighten and improve the appearance of healed wounds to a smoother and more even skin tone.
Garlic
Our ancestors used garlic in almost every culinary dish to help with many things from the common cold to lowering cholesterol, blood pressure and improving the cardiovascular system.  It was also used externally to treat acne, infected wounds and inflamed tissue. The star biological active here is Allicin, the reactive sulfur compound that acts as the defense mechanism to protect the plant from bacteria and fungal invasion. Black Garlic extract is included in the Morning Delight Formula to help protect against acne-causing bacteria, inflammation and fungal infection. Additionally, studies show topical application of garlic extract can potentially be effective for psoriasis, alopecia areata, keloid scar, wound healing, cutaneous corn, skin aging and rejuvenation.
Papaya Fruit Enzyme
Decongests, exfoliates and generated cell renewal while fading dark spots
Sunflower Oil* (nourishes and protects skin barrier), Di-PPG-2 Myreth-10 Adipate*** (emollient mild cleanser), Castor Oil* (anti-inflammatory, acne fighter), Papaya Fruit Enzyme (decongests, exfoliates and brightens dark spots), Mangosteen Extract* (protects against bacteria), Polyglyceryl-2 Sesquioleate**** (100% natural emulsifier, protects skin barrier), Aspen Bark Extract (exfoliates inner lining of pores, clears congestion), Hibiscus Roselle Extract* (fights free radical, increases elasticity), Gotu Kola Extract* (firms and expedites wound healing), Frangipani Flower Oil* (anti-stress, protects against tissue damage), Siam Wood Oil* (potent antiseptic, anti-inflammatory), Garlic Extract* (fights bacteria causing acne, antifungal), Onion Extract* (brightens dark spots and supports healing of scar), Glycerin (hydrates and plumps), Guaiac Wood Oil** (treats redness and inflammation), Mandarin Yellow Oil* (protects against infection in open wounds, reduces oil production). * Organic ** Sustainably Wildcrafted *** Gentle and Emollient Surfactant **** Sunflower Oil Derived Emulsifier
Description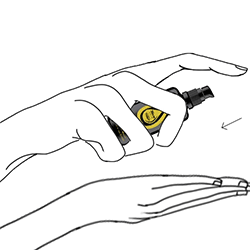 Shake bottle well to emulsify the formula. Gather 5-7 pumps into the palm of your hand and rub palms together to activate.
Massage all over DRY face and neck. Follow drainge massage to deep cleanse and stimulate circulation.
Close your eyes and lightly brush eyelashes in a downward motion to easily remove eye makeup, then open your eyes and swipe gently under the bottom lashes to remove excess eyeliner. Repeat until cleaned.
Rinse off with warm water. For dry or sensitive skin, use a well rung-out towel to wipe clean preventing any further damage to your skin barrier.
Morning Delight Cleanser is named after a scent from my memory — the morning after a heavy rain in a beautiful Thai garden. The earthy scent of wet ground meets the sweet refreshing aroma of flowers and fruit, inviting you to turn off the unstoppable world and stand still for you, to take a minute to regroup, to deeply inhale and slowly exhale.
If I could dream of creating the perfect marriage of the old world and the new — this would be it. Morning Delight Cleanser fuses my inherited traditions with the knowledge of modern day science. Potent culinary herbal extracts such as garlic and onion actively fight bacteria and lighten dark spots while papaya extract exfoliates the skin, improving skin texture and revealing an illuminating complexion.
The modern day luxuries of surfactants and emulsification allow the oil to perform a perfect dance of deep cleansing without irritation. It is a potent cleanser providing the ability to either have a quick rinse and cleanse or, to more deeply treat your skin with a stress-releasing steam towel treatment. Thus, Morning Delight was born and has been my husband's favorite product ever since. Being my husband's favorite product has proven it the most popular product for men too, the one product to break the ice with men and invite them to a healthy skin caring ritual.
Only logged in customers who have purchased this product may leave a review.